​​

TOURIST TAXI Eger was founded on 1st January, 2005.
The Company has set itself the goal of offering its customers full satisfaction and last but not least favorable prices.
Based on restricted professional requirements, Tourist taxi successfully proved that it is possible to make living even through fair taxi service and straightly established prices; moreover, it is also possible to belong to Eger's major taxi companies.
Tourist Taxi has made significant technical improvements recently:
We have attained the new, GPS-based digital order receiving and labeling system:
The system provides complete silence within the taxi, passengers are not disturbed by the continuous broadcast of the traditional dispatcher radio anymore, on the other hand, the names of those looking for a car are not heard in other cars. (This way, the system fulfills the Ombudsman's review of personality rights, namely that taxi order information should not be forwarded to other taxis.)
The new digital dispatcher system allows the taxi drivers to keep the promised arrival times accurately. This is ensured by the current traffic situation and the automatic handling of the location of the available taxi drivers.
The new system is currently under testing, the results so far are promising, so we will soon be able to work with our silent labeling application, as being the first among rural taxis.
---
---
DATA OF ENTERPRISE:
Name of enterprise: Tourist Taxi Eger E.v.
Shortened name of enterprise: Tourist Taxi
Phone number, availability of enterprise:
+36/80-777-444 VoIP: +36/21-22-33-458
Email address: - email -
Enterprise Logo (of an Undertaking Trademark Company):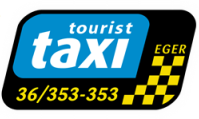 VAT number of enterprise: 63907177-1-30
Leader of the enterprise: Albin Szabó +36/30212-44-66 Email: - email -
Separate dispatcher license number: D-10-3
Separate dispatcher license date:
23.11.2015
Separate dispatcher license territorial scope: Hungary
Number of own cars: 2 (data of 31.01.2019)
Number of contracted cars: 7 (data of 31.01.2019)
The extent of the liability insurance related to the activity license:
1 000 000.-Ft
Supervisory bodies:
Heves County Government Office and Technical Licensing and Consumer Protection Department Transport Division (Heves Megyei Kormányhivatal és Műszaki Engedélyezési és Fogyasztóvédelmi Főosztály Közlekedési Osztály)
5. Faiskola street, Eger, 3300
Phone no.: +36/36-510-290 Fax no.: +36/36-510-291
Notary of Eger County Law City: Dr. Dénes Andráskó +36/36-523-705
​